Free Christian Ebooks

Here are some great Free Christian Ebooks to download to your computer and enjoy at your leisure.
14 For this reason I bow my knees to the Father of our Lord Jesus Christ, 15 from whom the whole family in heaven and earth is named, 16 that He would grant you, according to the riches of His glory, to be strengthened with might through His Spirit in the inner man, 17 that Christ may dwell in your hearts through faith; that you, being rooted and grounded in love, 18 may be able to comprehend with all the saints what is the width and length and depth and height— 19 to know the love of Christ which passes knowledge; that you may be filled with all the fullness of God.
Ephesians 3:14-19, NKJV
Ever since those first magical words came alive on the page when I was just a small child, I have been a great lover of books. Some of my best times are when I cozy up in a comfortable chair and read a good Christian fiction, but I can easily be persuaded to read Christian non-fiction books as well, especially when they are free. 
We are in the Ebook generation, so along with my library of books, I also have a pretty impressive library of Christian ebooks.
In addition to Ebooks, I am also working on an extensive video devotions project using devotions I have written from the Psalms. You may find these in three places. The entire collection appears on YouTube on my Devotional Reflections playlist, as well as on my Daily Bible Devotions blog. Because they are devotions from the Psalms, you may also go to my Psalms devotions pages on this web site. As I complete each Psalm, I include the videos on this website as well.

The following are some Monthly Devotionals that I have put together using devotions that I had originally written on my devotional blog.
Free Christian Ebooks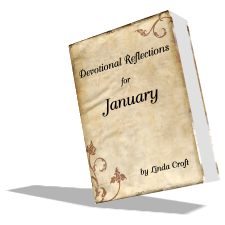 ---
Keep checking back for new books; I hope to have several more free Christian ebooks for you to enjoy! Be sure to send comments and suggestions.
God Bless You,
Linda
---
---
---
---