Psalm 98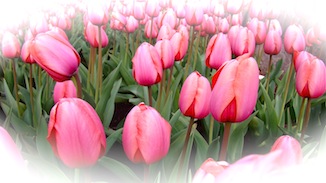 A Bible Devotion from Psalm 98
Let the Rivers Clap Their Hands
1 Oh, sing to the LORD a new song! For He has done marvelous things; His right hand and His holy arm have gained Him the victory. 2 The LORD has made known His salvation; His righteousness He has revealed in the sight of the nations. 3 He has remembered His mercy and His faithfulness to the house of Israel; all the ends of the earth have seen the salvation of our God.
4 Shout joyfully to the LORD, all the earth; break forth in song, rejoice, and sing praises. 5 Sing to the LORD with the harp, with the harp and the sound of a psalm, 6 With trumpets and the sound of a horn; shout joyfully before the LORD, the King.
7 Let the sea roar, and all its fullness, the world and those who dwell in it; 8 Let the rivers clap their hands; let the hills be joyful together 9 before the LORD, for He is coming to judge the earth. With righteousness He shall judge the world, and the peoples with equity. 
Psalm 98, NKJV
Like the last several Psalms, this is another Psalm of rejoicing over the coming judgment of the Lord. There are a couple of things mentioned in this Psalm that are new. Verse 2 tells us that the Lord has made known His salvation to all the ends of the earth.
In this Psalm of praise we are encouraged to shout joyfully, and to break forth in song with the sound of the harp, the trumpet, and the horn.
How does nature respond? The sea roars, the rivers clap their hands, and the hills are joyful. After centuries and centuries of being trapped in sin, all of creation is set free, and no longer will Satan be allowed to oppress God's people again.
Pray today that you will think of the 98th Psalm and live this day joyfully because the Lord will return, and He will remove all sorrow and sins by His righteous judgments. 
Next: Psalm 99 - The Lord Our God is Holy
---
More Devotions on the 98th Psalm from my blog, Daily Bible Devotions.
Something for Everyone, verses 4-6
The Hills Are Alive, verses 7-9
---

Video Devotions from Psalm 98

A New Song, verses 1-3

Something for Everyone, verses 4-6

The Hills Are Alive, verses 7-9

---
---
---
---
Psalm 98

Psalms 1 - 40 

Psalms 41 - 84

Psalms 85 - 118

Psalm 119

Psalms 120 - 150 

Daily Bible Devotions 

Home