Psalm 65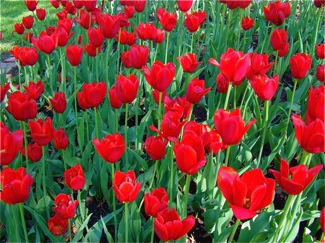 A Bible Devotion from Psalm 65

The Streams of God are Filled with Water
You care for the land and water it; you enrich it abundantly. The streams of God are filled with water to provide the people with grain, for so you have ordained it. You drench its furrows and level its ridges; you soften it with showers and bless its crops. You crown the year with your bounty, and your carts overflow with abundance. The grasslands of the desert overflow; the hills are clothed with gladness. The meadows are covered with with flocks and the valleys are mantled with grain; they shout for joy and sing. 
Psalm 65:9-13, NKJV 
David did not believe in Mother Nature. As a boy, David spent years out in the hills taking care of his father's flocks. As a man, David spent many years in forests, caves, mountains, valleys, etc. when he was being pursued by Saul, and later by Abner his son.
Because of David's intimate knowledge of nature, he constantly praises God using examples from nature. He also, as in this Psalm, illustrates the power and strength of God by using examples from nature. Look at all that God does in the 65th Psalm: He cares for the land and waters it, He fills the streams with water for their crops, He softens the earth with showers to facilitate planting, He blesses the harvest with abundance of crops, He clothes even the desert and the hills, and the flocks and the valleys mantled with grain shout for joy and sing praise to God.
Did you think that man was the only being to praise God? The plants, animals, birds, rivers, mountains, i.e. everything on earth sing praises to God. Just as in Adam's sin, not only was man cursed, but the whole earth was cursed as well. Just as Christians look forward to the time when Christ will return and take His saints with him to heaven, so all of nature looks forward to the time when God will create a new earth, perfect in every way.
Pray today that God would help you observe nature all around you as it sings praises to God; pray that you, too, will sing praises to God this day! 
Next: Psalm 66 - Praise Be to God Who has not Withheld His Love From Me
---
More Devotions on the 65th Psalm from my blog, Daily Bible Devotions
God Our Confidence, verses 5-8
---

Video Devotions from Psalm 65

Praise unto Thee, verses 1-3

Choices, verse 4

God Our Confidence, verses 5-8

Come Ye Thankful, verses 9-13

---
---
---
---
Psalms 1 - 40

Psalms 41 - 84

Psalms 85 - 118

Psalm 119

Psalm 120 - 150

Daily Bible Devotions 

Home