Psalm 66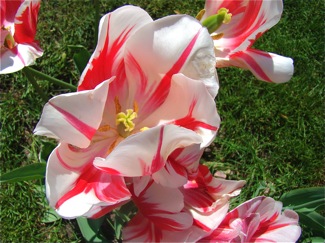 A Bible Devotion from Psalm 66

Praise be to God Who has not Withheld His Love from Me
Come and listen, all you who fear God; let me tell you what he has done for me. I cried out to him with my mouth; his praise was on my tongue. If I had cherished sin in my heart, the LORD would not have listened; but God has surely listened and heard my voice in prayer. Praise be to God, who has not rejected my prayer or withheld his love from me!
Psalm 66:16-20, NKJV 


Christians are truly blessed by God; just think of all the things God has done for you personally. David loves to think back and recount the many blessings God has bestowed upon his people.
As a matter of fact, in Psalm 66 David reminds us of the time when God turned the sea into dry land, so his children could cross the sea on foot. You remember the story, Pharaoh and his army were chasing the Israelites, when suddenly the Israelites had no place to go. The Red Sea was ahead of them and Pharaoh and his army were behind them. God caused a strong wind to blow upon the water until it stood up in a heap! The Israelites then crossed the sea on dry ground. Pharaoh and his army pursued the Israelites right into the dry ground of the sea. What did God do then? The wind ceased blowing and the sea stormed back upon Pharaoh and his army until all of the Egyptians were drowned in the sea.
I really appreciate David's defining the proper attitude before God if we expect Him to answer our prayer. In verse 18 he says: If I had cherished sin in my heart, the LORD would not have listened. Do you remember parable told by Christ in the New Testament? A ruler forgave his servant a huge debt; this same servant, however, refused to forgive a small debt to a man who owed him money, but instead cast him into prison and sold his wife and children to pay for the debt. The ruler was so furious; he threw the man into prison.
God is pure and holy, and when we approach Him, we must come before Him in purity and holiness. We do not have that purity within us, but we receive the purity of Christ when we fall down before Him in forgiveness. God then sees the purity of Christ instead of our sins, and answers our prayer.
Pray today that you would have a spirit of forgiveness toward any who have been evil to you, especially when you remember the great sin of your own which God has completely forgiven if you are a Child of God. 
Next: Psalm 67 - May the Peoples Praise You, O God
---
More Devotions on the 66th Psalm from my blog, Daily Bible Devotions
---

Video Devotions from Psalm 66

All the Earth, verses 1-4

Works of God, verses 5-7

Holds Our Soul, verses 8-12

Sin and Prayer, verses 13-20

---
---
---
---
Psalm 66

Psalms 1 - 40

Psalms 41 - 84

Psalms 85 - 118

Psalm 119

Psalms 120 - 150 

Daily Bible Devotions 

Home