Psalm 5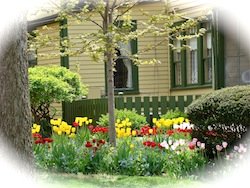 A Bible Devotion from Psalm 5
You, O Lord, will Bless the Righteous
But let all those rejoice who put their trust in You; Let them ever shout for joy, because You defend them; Let those also who love Your name be joyful in You. For You, O Lord, will bless the righteous; with favor You will surround him as with a shield.
Psalm 5:11-12, NKJV
David understood God! He understood that God does not look on man's outward appearance, but He looks upon the heart. He knew, too, that God knew when he was sincere, or when he was not sincere.
Every morning, David found himself too busy not to spend time with the Lord. My voice You shall hear in the morning, O LORD; in the morning I will direct it to You, and I will look up.
Do we look to God in the morning, approaching Him even before our day begins, or are we too busy to spend even just a few minutes with Him before we start our day?
I fear that too often we as Christians tend to worship God from afar. We mean to develop a closer relationship with the Lord, but we let the busyness of life get in the way. And yet, what is there in our lives that is more important than God? Nothing!
God does not take pleasure in wickedness, for no evil lives in God! The boastful do not stand before Him, for He hates all sin; He abhors the bloodthirsty and deceitful man. With this knowledge David continued Psalm 5 with these words,
But as for me, I will come into Your house in the multitude of Your mercy;
In fear of You I will worship toward Your holy temple.
Lead me, O LORD, in Your righteousness because of my enemies;
Make Your way straight before my face.
Here we find the secret to David's success. Coming before God with no arrogance or pride, He humbly sought God to lead him in His righteousness.
Only by living our lives in faithfulness toward God will we find any true success. Oh, we may have much success from a worldly point of view, but what good will that do us in eternity? When we come to God with nothing, only pleading for His help to keep us faithful, He will answer. God hears the voice of the humble, but will not listen to the voice of the proud and arrogant.
Let us not be fooled by the wicked of this world. Those who serve only themselves do not have the best interests of others in mind. They only seek to promote themselves. Let us not look to the world for joy, peace, or happiness. These can only be found in the Lord Jesus Christ.
In verses 11 and 12 of Psalm 5, David reminds us,

But let all those rejoice who put their trust in You;
Let them ever shout for joy, because You defend them;
Let those also who love Your name be joyful in You.
For You, O LORD, will bless the righteous;
With favor You will surround him as with a shield.

Pray that God will help you today to remember who the wicked really are and to pray for them constantly. Pray that you will remember how prone you are to sin against God and pray without ceasing for God's help to keep you from sin. Lastly, pray that God will give you great joy today when you think of God's shield of defense all around you.

Next: Psalm 6, The Lord Has Heard the Voice of My Weeping


---

More Devotions from Psalm 5

Verses 1-2, Hearken!

Verse 3, Look Up

Verse 4, Perfection

Verses 5-6, God Abhors Sin

Verses 7-8, As For Me

Verses 9-10, Rebellion Against God

Verses 11-12, Rejoice 


---
Video Devotions from Psalm 5

Hearken, verses 1-2



Look Up, verse 3



Perfection, verse 4



God Abhors Sin, verses 5-6



Ask for Me, verses 7-8



Rebellion against God, verses 9-10



Rejoice, verses 11-12


---
---
---
---
Psalm 5

Psalms 1 - 40

Psalms 41 - 84

Psalms 85 - 118

Psalm 119

Psalms 120 - 150

Daily Bible Devotions Blog 

Home