Psalm 35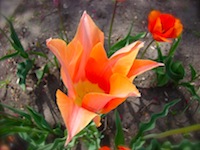 A Bible Devotion from Psalm 35

My Soul Shall be Joyful in the Lord
And my soul shall be joyful in the Lord; it shall rejoice in His salvation. All my bones shall say, Lord, who is like You, delivering the poor from him who is too strong for him, Yes, the poor and the needy from him who plunders.
Psalm 35:9-10, NKJV
It does not take a person long to realize the great inequity that exists between the believer and the non-believer. They truly live by two different standards. Several years ago I was hurrying to work driving a little too fast. One of my co-workers cornered me later and said, "You were speeding this morning. I thought Christians did not speed."
I was really surprised. She was right; I should have slowed down. I realized then, that non-Christians hold us to a different standard than the one they live by. In this Psalm, they even go a step farther. Even though David grieved at their illnesses, they laughed at him when he was ill. Actually, they not only laughed, but they rejoiced!
David prayed that the Lord would vindicate him. However, just a few verses later he cried out to God and said, Lord, who is like You, delivering the poor from him who is too strong for him. He realized that God is just; He upholds the cause of the poor as well as the cause of the righteous.

We're not apt to be like that; we like to fall in line with the ungodly and backbite them as they do us. Many times God allows us to be ridiculed by the wicked around us to test us. Do we really believe that God will uphold our cause?
Pray today that God will give you patience with the non-Christians around you and that you will pray for their salvation and ignore the grief they send knowing that God will vindicate His people.
Next: Psalm 36, In Your Light We See Light
---
More Devotions on the 35th Psalm from my blog, Daily Bible Devotions
Joyful in the Lord, verses 9-10 
Thanks for Adversity, verses 15-18
Thy Righteousness, verses 22-28
---


Video Devotions from Psalm 35

Plead My Cause, verses 1-3



Vengeance, verses 4-8



Joyful in the Lord, verses 9-10



A Humbled Soul, verses 11-14



Thanks for Adversity, verses 15-18



Deceit, verses 19-21



Thy Righteousness, verses 22-28


---
---
---
---

Psalm 35

Psalms 1 - 40

Psalms 41 - 84

Psalms 85 - 118

Psalm 119

Psalms 120 - 150

Daily Bible Devotions 

Home