Psalm 33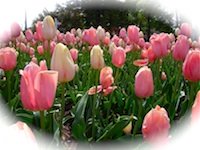 A Bible Devotion from Psalm 33
The Earth is Full of the Goodness of the Lord
For the word of the Lord is right, and all His work is done in truth. He loves righteousness and justice; the earth is full of the goodness of the Lord. . . The Lord looks from heaven; He sees all the sons of men. From the place of His dwelling He looks on all the inhabitants of the earth; He fashions their hearts individually; He considers all their works. No king is saved by the multitude of an army; a mighty man is not delivered by great strength. A horse is a vain hope for safety; neither shall it deliver any by its great strength. Behold, the eye of the Lord is on those who fear Him, on those who hope in His mercy, to deliver their soul from death, and to keep them alive in famine. 
Psalm 33:4-5 and 13-19, NKJV
What do you think of when you take a walk in the woods, or watch the beautiful white, puffy clouds float by, or gaze down from a lofty mountain peak upon the valley far below, or hear the birds sing in the trees? Do you think of God, the Creator who has built a beautiful habitation for man, and keeps the balance of nature perfectly? There is no "mother nature." God alone can claim the glory for this world and all that is within it.
You know, the birds are smarter than us! They know who God is and sing His praises all day long. They do not worrry about where there next meal will come from or if their nest is better than the nest of all of the other birds. The males don't take pride in their colorful "clothes" and therefore think of themselves as better than the females.
Our soul waits for the Lord; He is our help and our shield. For our heart shall rejoice in Him, because we have trusted in His holy name. Let Your mercy, O Lord, be upon us, just as we hope in You. Psalm 33:20-22
Pray today that you will be like the birds of the air and the creatures of the earth who's hope is in the Lord.
Next: Psalm 34, Do You Believe in Angels?
---
More Devotions on the 33rd Psalm from my Blog, Daily Bible Devotions
Blessed is the Nation, verses 10-12
He Looks and He Sees, verses 13-17
---
Video Devotions from Psalm 33

Goodness, verses 1-5



Word of the Lord, verses 6-9



Blessed is the Nation, verses 10-12



He Looks; He Sees, verses 13-17



Eye of the Lord, verses 18-22


---
---
---
---

Psalm 33

Psalms 1 - 40

Psalms 41 - 84

Psalms 85 - 118

Psalm 119

Psalms 120 - 150 

Daily Bible Devotions 

Home