Psalm 119 Vs 105-112
Nun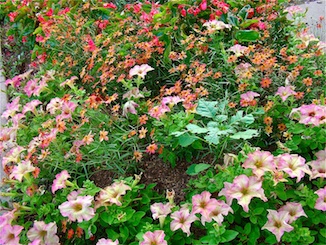 A Bible Devotion from Psalm 119 Vs 105-112
The Joy of My Heart
105 Your word is a lamp to my feet and a light to my path.
106 I have sworn an oath and confirmed it, to keep your righteous rules.
107 I am severely afflicted; give me life, O Lord, according to your word!
108 Accept my freewill offerings of praise, O Lord, and teach me your rules.
109 I hold my life in my hand continually, but I do not forget your law.
110 The wicked have laid a snare for me, but I do not stray from your precepts.
111 Your testimonies are my heritage forever, for they are the joy of my heart.
112 I incline my heart to perform your statutes forever, to the end.
Psalm 119 Vs 105-112, NKJV
I don't know about you, but I am amazed at the variations of themes as we read through this Psalm. Psalm 119 Vs 105-112 is another example. When I think through these verses as a whole I picture a soldier praying this prayer. Though he is surrounded with life and death situations, he has sworn an oath and confirmed it to keep God's righteous rules. 
It's interesting to note, that darkness is an anomaly that we face here on earth. For the Christian, that will end when we go to heaven; for the non-Christian that darkness will extend for eternity. God has given us His word to light the dark paths so that, in a sense, we no longer have to dwell in darkness here on earth as well. How it encouraging that is to a man or woman facing a potential battle at any moment. 


I am severely afflicted, I hold my life in my hand continually, and the wicked have laid a snare for me are three statements made by this Psalmist that most certainly apply to what a soldier faces each day he's in active duty. What then does he do to get himself through this time? He asks God to teach him His rules, help him to not forget those rules, and help him to not stray from those rules. This is probably not the first place soldiers, or even we ourselves turn when the dangers of life overwhelm us, but it should be! 


It's truly unfortunate that many times we don't look to God's Word first, because the result for this Psalmist was joy in his heart. And there it is - the true "secret" of the Christian life. In the last section of Psalm 119, the Word of God was as sweet as honey in his mouth. Here in Psalm 119 Nun, God's testimonies are his heritage forever and bring joy to his heart. Therefore, he purposes to incline his heart to perform God's statutes forever. 


Pray that, as we read in Psalm 119 Vs 105-112, God will give you such security in His Word that it will produce joy in your heart no matter what the circumstances of the day bring to you. 
Next: Psalm 119 Vs 113-120 - I Hope In Your Word
---

Video Devotions from Psalm 119 Vs 105-112

Lamp unto My Feet, verses 105-108

Inclined Heart, verses 109-112

---
---
Psalm 119 Vs 105-112 

Psalms 1-40 

Psalms 41-84 

Psalms 85-118 

Psalm 119

Psalms 120 - 150 

Home