Lords Day 29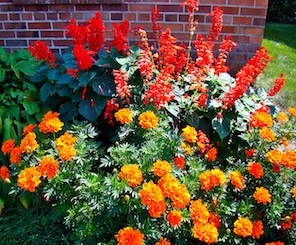 Lords Day 29 of the Heidelberg Catechism, portrayed poetically here by David Croft, continues with the subject of the Lord's Supper, questioning whether the bread and wine are truly turned into the actual body and blood of Christ. Answering, "No," we are then asked why Christ called them such.



Lords Day 29

Are These Most Blessed Communal Stays

Are these most blessed communal stays
Transmuted by the sons of dust
From mere efemeric mortal clays
To His flesh Whom we only trust?
Tis not of man whose feeble strength
Can wield nor wrest the hand of God
Nor turn his days appointed length
Nor brook His faintly kindled rod

To rend Him from that Sabbath place
With vainly lisped incanted lays
Who reigns th' eternal King of grace
Whom heav'ns all blessèd holy praise
As streams from the baptismal flood
Which flow to cleanse no temp'ral tent
Are changed not into Christ's own blood
But sign and seal God's covenant

So too the holy supper's bread
Though named His body with intent
Is changed not to our risen Head
Tis language framed for sacrament
Pray why then doth the Holy One
Declare the bread His body then
And the new cov'nant of the Son
The cup He giveth unto men?

In seventh tried and fired strains
He teacheth just as bread and wine
Enliven feeble mortal pains
So too the Lord Who rose divine
Doth nourish from the living coals
'His poured-out blood and body rent'
Our burdened hungry pilgrim souls
Unto a life in glory spent

But more t' assure our wavered hearts
He speaks in sign and outward pledge
That we the manifolded parts
Engrafted by the Spirit's hedge
Share in His death as sure as taste
The symbols of our Sovereign's dearth
And stand as God's immortal chaste
In all He offered on the earth

February 8, 1998
Lords Day 29 Heidelberg Catechism Question & Answers 78 & 79
© 1998 David L. Croft
Just as the water of baptism is not changed into Christ's blood, so the wine and bread of the Lord's Supper are not actually changed into the actual body and blood of the Lord. Christ uses the terminology He does to teach us that, as bread and wine nourish our temporal life, so His crucified body and blood that was poured out for us nourish our souls for eternal life. It is through these signs that we share in His death that was broken for us, and stand before God as chaste.


Truly it is more than we can imagine living in bodies racked with sin. What an amazing God we serve!



---


Lords Day 29

Lords Day 30

Lords Day 28

Heidelberg Catechism Poetry

Home



---
Build Your Own Web Site!
Devotional Reflections
from the Bible


Member of 5 Pillar Club
---
---