Dorcas in the Bible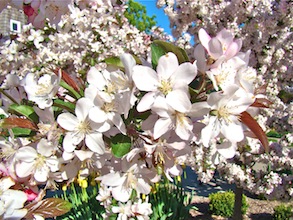 The story of Dorcas in the Bible reminds us of God's great love for all of His people. Dorcas was not a great pastor, prophet, or evangelist, but rather just a plain, everyday person like you and me. However, she was not too unimportant for God to providentially include the story of her good works and charitable deeds in His holy Word.
At Joppa there was a certain disciple named Tabitha, which is translated Dorcas. This woman was full of good works and charitable deeds which she did. But it happened in those days that she became sick and died. When they had washed her, they laid her in an upper room. And since Lydda was near Joppa, and the disciples had heard that Peter was there, they sent two men to him, imploring him not to delay in coming to them. Then Peter arose and went with them. When he had come, they brought him to the upper room. And all the widows stood by him weeping, showing the tunics and garments which Dorcas had made while she was with them. But Peter put them all out, and knelt down and prayed. And turning to the body he said, "Tabitah, arise." And she opened her eyes, and when she saw Peter she sat up. Then he gave her his hand and lifted her up; and when he had called the saints and widows, he presented her alive. And it became known throughout all Joppa, and many believed on the Lord.
Acts 9:36-42, NKJV
Dorcas in the Bible
A Disciple
Often when we read the word "disciple" in the New Testament we think of the 12 disciples of Jesus, or we think of men. However, a disciple was a follower of Jesus, whether man or woman. It is interesting to note that this is the first thing the Bible tells us about Dorcas. She was a Christian; not because she did good works and charitable deeds, but rather, she did good works and charitable deeds because she was a Christian. This is a very important distinction. It is so easy to get wrapped up in all of the things we DO for the Lord and for the church. However, the most important thing we MUST do is to be sure of our true faith in Christ, and then renew that faith each day as we fellowship with the Lord through Bible reading and prayer.


Dorcas in the Bible
A Woman full of Good Works
What are good works? In the case of Dorcas in the Bible, she made garments. What about us? Is this the only way that a woman can serve the Lord? When we become Christians, God equips each of us with gifts that we can use to serve Him; each gift is related to the abilities and interests that we already have. Dorcas' gift was doing charitable works by making garments for other people. Did that make Dorcas a better Christian? See how quickly our mind reverts to pride when we do works for Christ? The purpose of doing works for Christ is not for others to see. I imagine that Dorcas was a very humble woman, which explains the reaction of the people. The people loved her and could not bear to see her die! They also had a great deal of faith, as they sent men to find Peter, who was nearby. They had no trouble believing that Peter, through Christ, could work a miracle in their behalf.


Dorcas in the Bible
God Brings Dorcas to Life
What a time of praise the people must have had in seeing Dorcas brought back to life. As a matter of fact, when it became known throughout all Joppa, many people believed on the Lord. Now we have come full circle. Does this help you to see God's purpose in your own life? God has a plan for each of us according to our gifts and interests. As Christians the change in heart we experience makes us want to use these gifts for the Lord. He has done so much for us; it is such a little thing to give back in return. Our true hope is that our lives will be used by Christ to bring many people to the understanding and knowledge of Christ. The only things we can take to heaven with us are the Christians who have been saved through our testimony in this life. Of course, we don't really take them to heaven, as it is only God who brings souls to Him. It is also God who chooses to use the likes of us to advance His Kingdom. I will never understand that, but I praise God for it.


Dorcas in the Bible
Use Your Gifts for Christ
Don't spend a lot of time looking for your gift; that puts the emphasis on the wrong thing. God opens and closes doors in your life which lead you in the way He would have you go. Be sensitive to that leading and use the gifts and interests you already have to serve Him. Spend time in prayer asking God to use you as well as other Christians around you to reach others for Him. You may be a journalist. Write stories acknowledging the true presence of God in this world. You may be a painter; paint for the glory of God. You may work in a bank; work to please the Lord, not your boss. You'll be amazed at how many opportunities to share Christ will come as a result. Colossians 3:17 says, Whatever you do in word or deed, do all in the name of the Lord Jesus, giving thanks to God the Father through Him. Be like Dorcas in the Bible.
Go! Use Your Gifts for Christ!
---
---
---
---
Women of the Bible

Devotions for Women

Christian Meditations from the Bible


---