Psalm 30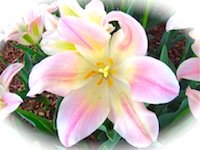 A Bible Devotion from Psalm 30

Joy Comes in the Morning
Have you ever noticed that some Christians seem to be happy all the time. It seems as though they never grieve. The truth is, no one is happy all of the time. Part of being in a world of sin is having a life filled with sin, enemies, retaliations, bitterness, gossip, and the list goes on.
The difference for the true saint in Christ is an awareness amidst all of the difficulties of life, that our God will always take care of us. Even though our life may be filled with all manner of trials and burdens, we know that, "Weeping may endure for a night, but joy comes in the morning." Remember, that morning may not come until our entrance into God's heavenly kingdom; but that will truly be a morning of great joy.
Perhaps one of the greatest difficulties for believers in this, the 21st century, is that we have lost the realization that true joy is found in Christ alone. All of the trinkets of this age will pass away, and though they may give momentary pleasure, they will certainly not give us lasting joy
As Christians, we are dazzled by the things of this world, and often find our hearts led astray by the same temptations that affect all. What are we to do; how can we insulate ourselves from these unending temptations. By the grace of God, let us find ourselves in God's Word. Let us continue to read, study, and pray. Our strength never was and never will be in ourselves, but rather our only strength lies in God, Himself.
Let us, like the Psalmist, look to Christ, for in Him alone is found joy, peace, and love. Only in Him will we have everlasting joy both in this life and in the life to come!
The Psalmist concludes this Psalm with these words, You have turned for me my mourning into dancing; you have put off my sackcloth and clothed me with gladness, to the end that my glory may sing praise to You and not be silent. O Lord my God, I will give thanks to You forever.
Pray today that God will give you joy in the midst of life's burdens because you know that His favor is for life.
Next: Psalm 31, The Lord Preserves the Faithful
---
More Devotions on the 30th Psalm from my blog, Daily Bible Devotions
Joy Cometh in the Morning, verses 4-5
---
Video Devotions from Psalm 30

Lift Me Up, verses 1-3



Joy Cometh in the Morning, verses 4-5



Prosperity, verses 6-12


---
---
---
---

Psalm 30

Psalms 1 - 40

Psalms 41 - 84

Psalms 85 - 118

Psalm 119

Psalms 120 - 150 

Daily Bible Devotions 

Home