Plot Revealed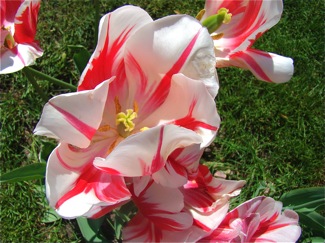 Queen Esther's was quick to act when a plot revealed by her Uncle Mordecai endangered the life of the king.
19 When virgins were gathered together a second time, Mordecai sat within the king's gate. 20 Now Esther had not revealed her family and her people, just as Mordecai had charged her, for Esther obeyed the command of Mordecai as when she was brought up by him. 21 In those days, while Mordecai sat within the king's gate, two of the king's eunuchs, Bigthan and Teresh, doorkeepers, became furious and sought to lay hands on King Ahasuerus. 22 So the matter became known to Mordecai, who told Queen Esther, and Esther informed the king in Mordecai's name. 23 And when an inquiry was made into the matter, it was confirmed, and both were hanged on a gallows; and it was written in the book of the chronicles in the presence of the king.

(Esther 2:19-23, New King James Version)
Esther has become Queen. How much do you suppose her life changed? Why did God put Esther, a Jew, in this position? Why did Mordecai command Esther to not reveal her family or her people? These are all very interesting questions, and it will take the entire book to reveal all of the answers.

A Plot Revealed 

Today we have a rather interesting situation. Mordecai, wanting to keep in touch with Queen Esther, would often sit in the king's gate. During one such time, he overheard a plot by two of the king's doorkeepers who were planning to kill the king. Mordecai quickly reported the matter to Queen Esther, who reported it in Mordecai's name to the king's officials. When the matter was confirmed, the two doorkeepers were hung, and the matter was recorded in the book of the chronicles of the king. 

What significance does this event have? At this point, it does not seem to have any, and yet we know that God will use this plot revealed as a tool in the future to destroy His enemies. 

What about our own daily lives? We go through the hum drum of life, day after day, not even thinking of how God may be using seemingly insignificant events for His honor and glory. When I was a teen, I really did not think of myself as an adult, however, teens are adults before the Lord, totally responsible for everything they do, think, and say! Sometimes we get the feeling that being a teen is like being on an airplane being in a holding pattern, waiting to land. 

As teens, you have already landed! Do not let the everyday things in life cause you to become complacent before the Lord. Every day, by the grace of God, spend time with the Lord reading His Word, and fellowshiping with Him in prayer. You never know when a seemingly insignificant event, such as "a plot revealed" by Moredecai will affect the future events of your life. 

What an amazing God we have! 



Next: Haman
---
---

Plot Revealed 

Esther Bible Study

Devotions for Women

Great Women of the Bibl

Home