You Alone are Righteous Lord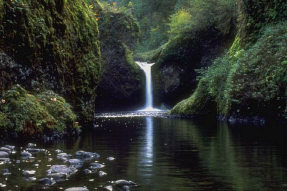 "You Alone are Righteous Lord" is a poem from the collection of Inspirational Christian Poetry by Linda. This poem is based upon Galatians 5:22-23 and expresses our difficulty in living for God.
22 But the fruit of the Spirit is love, joy, peace, longsuffering, kindness, goodness, faithfulness, 23 gentleness, self-control. Against such there is no law.
Galatians 5:22-23, NKJV


You Alone are Righteous Lord


Love and joy are mine each day,
At least that's the proper thing to say.
Oh yes, goodness, peace, self-control
I really don't want to sound too droll.



Gentleness and faithfulness
A little harder I must confess.
Kindness and long-suffering,
These are much harder an offering.



What? You want me to be true?
I cannot just stretch a little too?
Simply to my Lord I fall.
His love for me overshadows all.



God by highest heav'n adored
Forgiveness I have deeply implored.
You alone are righteous, Lord.
For myself I cannot say a word!



©Linda M. Croft
July 13, 2006
Why does it seem to take us a lifetime to understand the simple message of this poem? When we first read verses such as Galatians 5:22-23 we rush right through them thinking, "Yes, that perfectly describes my life."
But, upon even just a little reflection, we realize that if we truly exhibit any of the Christian fruits given in these verses, it is due to the power of Christ within our hearts and souls. For, left to ourselves, we would only exhibit the opposite characteristics.
That is the simple truth expressed in the very last stanza. As we gaze upon our dear Lord and Savior, and as we contemplate our great God in Heaven, we see the truths expressed by Paul in Romans 7. The things I desire to do, I do not do. And the things I do not want to do, I do. As Isaiah proclaimed, when seeing the throne of God, "I am a man of unclean lips -- I am undone." So are we undone before a holy and righteous God. He, alone, is righteous. He alone is filled with goodness and truth. We simply fall before Him, speechless!
---
You Alone are Righteous Lord is part of a collection of Poetry by Linda

Poetry by David

About Linda Croft

Daily Bible Devotions

Christian Meditations from the Bible

---
Sign up today for my monthly Devotional Ezine which includes a devotional and a
new poem based upon a current news event.
---
Devotional Reflections
from the Bible


Member of 5 Pillar Club
---
---