Autumn Patience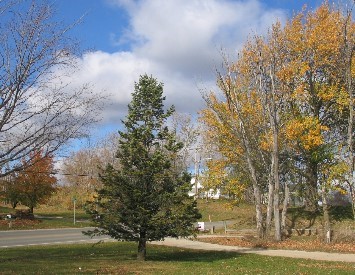 A Monthly Holiday Devotions Ezine with a new holiday devotional for the month of October entitled, Autumn Patience.


7Be patient, then, brothers, until the Lord's coming. See how the farmer waits for the land to yield its valuable crop and how patient he is for the autumn and spring rains. 8You too, be patient and stand firm, because the Lord's coming is near.
19My brothers, if one of you should wander from the truth and someone should bring him back, 20remember this: Whoever turns a sinner from the error of his way will save him from death and cover over a multitude of sins.
James 5:7-8 & 19-20, New International Version

Autumn Patience--that is a rather unusual title for a devotion, is it not? Somehow I view autumn a little differently when I think of myself as being the in "autumn" of my life. About 10 years ago, a friend said to me, "Just think Linda, you are approaching the 'old age of youth,' but look at me, I am already in the 'youth of old age.'" Well, here it is 10 years later, and I must say I am certainly approaching the youth of old age.

As my husband and I chatted today, we were discussing the change in our attitudes as we approach retirement years. It seems as though we have an increasing sense of, "What did I do with my life, and how can I change that now?" Things that once mattered are no longer priorities.

When I read James 5:7-8, shown above, I thought that perhaps that was really what James was getting at. He urges those who are suffering to have patience, just as a farmer does who waits for the autumn and spring rains.

First of all, we need to be patient as Christians because we must realize that the time of the Lord's return is certainly near. Can anyone doubt that as we watch the news that unfolds each day?

Secondly, we need to use these later years wisely, as there are not too many of them left! James urges the Christians to look out for one another.

If one of you should wander from the truth and someone should bring him back, remember this: Whoever turns a sinner from the error of his way will save him from death and cover over a multitude of sins.

That did not seem all that important years ago because it seemed as though time just stretched out before me. So, as we continue on through these fall days, I urge you to have "autumn patience," and to use the days God has given you wisely.

God Bless You,
Linda


For more devotions check my Daily Bible Devotions where we are currently going through the Bible chronologically, and have just begun the New Testament. After going through the major and minor prophets of the Old Testament, we skip forward several hundred years to see the fulfillment of those same prophecies. Zechariah was not expecting to be the one God would use to have a son who would prepare the way for the Messiah. We know the Lord is coming, but seem to think it will be for another generation--it surely will not happen in our lifetime.



NEWS FLASH!!

My newest eBook (20 Devotions on Love) has been published and is available as a free gift for those who sign up for my new Devotional Reflections bi-monthly newsletter. Check out my site for more details on my Free Christian eBooks page.

I am currently putting the finishing touches on my newest books, Daily Bible Devotions for September and Daily Bible Devotions for October.

Three issues of my newsletter have already gone out, with the fourth one going out soon. The format is entirely different than this ezine--hope you will check it out.




Christian Success Institute

I cannot say enough good things about Christian Success Institute If you have not checked this site out yet, do so!

Ok--I know a lot of you have not checked out this site yet, but the amount of great new material being added daily is simply phenomenal! Whether you are just interested in growing as a Christian, or whether you really have thought about having an eBusiness, this site will take you through the process.



CSI Update

I am now one of the CSI coaches! Just log on to the main CSI Web Site where you can now read my own free daily Bible devotions. Hope you will check it out!

Scriptures

My Scriptures business is really growing as well; if you have any inkling at all about doing a successfull internet marketing business--it does not come any easier than this!

The first goal of this company, called Scriptures is to spread the Gospel to as many people as possible by putting Bible verses on all of the products they sell. The offer an impressive range of natural vitamins and supplements, as well as hair and body care products, and, of course, Bible study CD's.

The cost, therefore is almost non-existent! Just buy products that you would normally buy, from them instead of elsewhere.

If you want to take the time to find your own downline, through friends, neighbors, and cold calling, go right ahead. (I hate doing all of the above.)

But, if you would rather let them do the work for you, you have the opportunity of joining three different advertising co-ops based upon the amount of money you are willing to invest each month. (It's unbelievably cheap! I know because I have been foolish enough to join companies that cost over $100 a month.)

The advertising is done by a professional advertising company who puts ads in Christian magazines and Christian web sites. As people respond to the ads, the people at Scriptures build your downline. Your only responsiblity, then, is to call these people so you can answer their questions and encourage them in their own business.

Now that kind of calling I can do! After all, I love to talk, and these people are ready to listen.

I have found that their predictions are very accurate, my downline is growing. God is so good!

SCRIPTURES UPDATE:

Everything this company has said is true; I am getting about the number of people in my downline as they said I would. (It's nice to know someone who actually tried it out before you take the plunge!)

Have a great October--I will see you in November!

God Bless You,
Linda




Devotional Reflections from the Bible
Daily Bible Devotions
Christian Success Institute


Scriptures
New!

CommentsHave your say about what you just read! Leave me a comment in the box below.