WWII
A Monthly Holiday Devotions Ezine with a new holiday devotional for the month of September, entitled WWII.


11 I saw heaven standing open and there before me was a white horse, whose rider is called Faithful and True. With justice he judges and makes war.
19 Then I saw the beast and the kings of the earth and their armies gathered together to make war against the rider on the horse and his army. 20 But the beast was captured, and with him the false prophet who had performed the miraculous signs on his behalf. With these signs he had deluded those who had received the mark of the beast and worshiped his image. The two of them were thrown alive into the fiery lake of burning sulfur.
1 Corinthians 9:24-26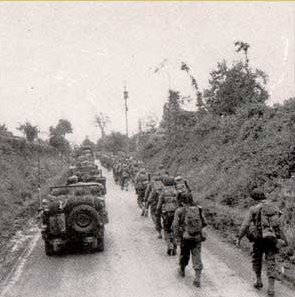 It may seem unusual to have a holiday devotional on a war theme, however in many ways it is most fitting. As I was looking through all of the holidays, events, and famous birthdays for the month of September, I noted that WWII began on September 1, 1939.

[I must apologize to my two brothers, for neither one of them would have had to look that date up. But the thing I hated most about history was memorizing dates and battles--and you see, there is no need to have them memorized because now we have the internet!]

The 20th century began on a sad note--only a few years into the century WWI, the war to end all wars, began. Unfortunately, it did not do its job, so in 1939 WWII began. Surely, this would be the war that would end all wars, would it not?

Of course, we all all know the answer to that; we are now in the 21st century and wars still continue. In fact, we have had so many wars since WWII (I will not further embarass my brothers by trying to mention all of them)that we no longer talk about a war that will end all wars.

Funny thing is, such a war does really exist! When will it occur? I do not know, do you? With current events being as tumultuous as they are, it would seem that this war could not be very far away.

Of what war am I speaking? If you read the Scripture from Revelations 19 shown above, you probably already know.

It will take God Himself to end all wars--no man or men will ever be able to accomplish the world peace that is spoken of so often.

At the end of time as we know it, things will look really bleak for the nation of Israel; they will be left standing all by themselves to face the ire of the entire world whose army will have them completely surrounded.

But, just as things look completely hopeless they will look up. What will they see?

I saw heaven standing open and there before me was a white horse, whose rider is called Faithful and True. With justice he judges and makes war.

Who is this rider? This rider is the Lord Jesus Christ! But, is not the book of Revelations just an allegory--surely we are not expected to take it as the Gospel Truth (pun intended) are we?

Yes, it is the truth and it will happen. Believe me, this is one war in which you had better be on the right side, because there are no second chances. We are told that Christ will return with His entire army (the resurrected Christians) to defeat the armies of the Anti-Christ and Satan.

Should we be afraid? Only if we are on the wrong side! To the Christian, this is one of the greatest events of all time, for it ushers in true world peace.

God Bless You,
Linda


For more devotions check my Daily Bible Devotions where we are currently going through the Bible chronologically, and are now reading in the book of Ezekiel. Today I just finished a devotional on the Valley of Dry Bones from Ezekiel 37. As we have been working through this book, I marvel at the many times God takes an aside from the proclamation of doom and destruction to the nations, to prophecy of the peace and hope that is always there for His people. I am amazed by how much Christ is revealed in the Old Testament! Hope you will take the time to join us!



NEWS FLASH!!

My first eBook (Daily Bible Devotional for August) has been published and is available as a free gift for those who sign up for my new Devotional Reflections bi-monthly newsletter. Check out my site for more details on my "Newsletter" page.

I am currently putting the finishing touches on my newest book, Daily Bible Devotional for September.

Two issues of my newsletter have already gone out, with the third one going out today. The format is entirely different than this ezine--hope you will check it out.




Christian Success Institute

I cannot say enough good things about Christian Success Institute If you have not checked this site out yet, do so!

This is a site by Christians, for Christians, to teach them to successfully serve Christ in every area of their lives, including business.



CSI Update

I am now one of the CSI coaches! Just log on to the main CSI Web Site where you can now read my own free daily Bible devotions. Hope you will check it out!

Scriptures

My Scriptures business is really growing as well; if you have any inkling at all about doing a successfull internet marketing business--it does not come any easier than this!

The first goal of this company, called Scriptures is to spread the Gospel to as many people as possible by putting Bible verses on all of the products they sell. The offer an impressive range of natural vitamins and supplements, as well as hair and body care products, and, of course, Bible study CD's.

The cost, therefore is almost non-existent! Just buy products that you would normally buy, from them instead of elsewhere.

If you want to take the time to find your own downline, through friends, neighbors, and cold calling, go right ahead. (I hate doing all of the above.)

But, if you would rather let them do the work for you, you have the opportunity of joining three different advertising co-ops based upon the amount of money you are willing to invest each month. (It's unbelievably cheap! I know because I have been foolish enough to join companies that cost over $100 a month.)

The advertising is done by a professional advertising company who puts ads in Christian magazines and Christian web sites. As people respond to the ads, the people at Scriptures build your downline. Your only responsiblity, then, is to call these people so you can answer their questions and encourage them in their own business.

Now that kind of calling I can do! After all, I love to talk, and these people are ready to listen.

I have found that their predictions are very accurate, my downline is growing. God is so good!

Have a great September--I will see you in October!

God Bless You,
Linda




Devotional Reflections from the Bible
Daily Bible Devotions
Christian Success Institute


Scriptures
New!

CommentsHave your say about what you just read! Leave me a comment in the box below.