Soldiers of Jesus Christ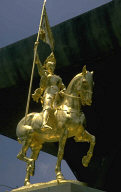 Soldiers of Jesus Christ
1 You then, my child, be strengthened by the grace that is in Christ Jesus, 2 and what you have heard from me in the presence of many witnesses entrust to faithful men who will be able to teach others also. 3 Share in suffering as a good soldier of Christ Jesus. 4 No soldier gets entangled in civilian pursuits, since his aim is to please the one who enlisted him. 5 An athlete is not crowned unless he competes according to the rules. 6 It is the hard-working farmer who ought to have the first share of the crops. 7 Think over what I say, for the Lord will give you understanding in everything.
2 Timothy 2:1-7
In the United States, Veteran's Day is celebrated on November 11th; many other countries have similar days devoted to the honoring of their soldiers. In this devotion for Veterans Day let's look at 2 Timothy 2:1-7 to discover the proper attitude for a soldier.
As far back in history we go, when cities and countries were formed, each found it necessary to protect themselves by developing an army of soldiers. The Bible records information about Kings and soldiers in the book of Genesis. The Bible also tells us in 2 Timothy that every Christian is a soldier of Jesus Christ.
God uses the illustration of the soldier to help us how to understand our responsibilities as soldiers in the army of God.
We know that soldiers have suffered and died throughout history to protect their own country. Many times God also calls the Christian soldier to suffer, and sometimes die for his faith. This should not come as a surprise to us. If you've been reading my Psalms devotions, you know that many of the Psalms of David are filled with laments over David's suffering, especially when the enemies of God were devoted to killing him even when he had done nothing wrong.
When God calls us to suffer, we must cry out to God for help, for He alone can help us. You'll find that the more you are consistently reading God's Word and praying to Him, this becomes almost second nature. You will find yourself talking to the Lord throughout the day. I think that is exactly what Paul is referring to when he tells us to pray without ceasing.
What would happen in the midst of battle if each soldier decided to fight the battle the way he thought best. Chaos would soon set in. You would hope to fight against an army such as that because you would be guaranteed to win! Verse 4 tells us that the soldier seeks to please the one who enlisted him.
My father served as a paratrooper in World War II; during that time his first son was born, and his only brother died on a Coast Guard ship that went down. Don't you think that would make him want to go home and forget about being a soldier? But, he did not go home because the battle was not over. I am so very proud of my father and the men and women like him who knew that their first allegiance as a soldier was to their country.
As a soldier of Christ, finish the battle! Don't give up midstream' don't go back to the sins of your youth. Rather just as the athlete is not crowned until he competes according to the rules and finishes the race.
Pray that you will be a faithful soldier of Jesus Christ so that you, too, will receive the Crown of Life at the end of your battle!
God Bless You, Linda
PS Thanks Dad, Grandpa, and Buddy for your loyal service to our country even through injury and death (Buddy died on a Coast Guard ship that was torpedoed>.
This Veterans Day, I Salute You!



New!

CommentsHave your say about what you just read! Leave me a comment in the box below.