Summertime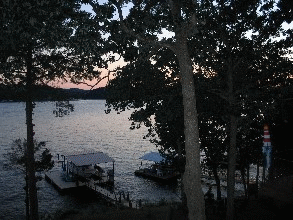 Lake of the Ozarks, Missouri

A Monthly Holiday Devotions Ezine with a new holiday devotional for the month of July entitled "Summertime."


"While the earth remains,
Seedtime and harvest,
Cold and heat,
Winter and summer,
And day and night
Shall not cease."
Genesis 8:22

" The harvest is past,
The summer is ended,
And we are not saved!"
Jeremiah 8:20

24 "But in those days, after that tribulation, the sun will be darkened, and the moon will not give its light; 25 the stars of heaven will fall, and the powers in the heavens will be shaken. 26 Then they will see the Son of Man coming in the clouds with great power and glory. 27 And then He will send His angels, and gather together His elect from the four winds, from the farthest part of earth to the farthest part of heaven.

28 "Now learn this parable from the fig tree: When its branch has already become tender, and puts forth leaves, you know that summer is near. 29 So you also, when you see these things happening, know that it is near—at the doors! 30 Assuredly, I say to you, this generation will by no means pass away till all these things take place. 31 Heaven and earth will pass away, but My words will by no means pass away.
Mark 13:24-31
When I thought of writing a devotion on the theme of summer, the words of that famous song from Porgy and Bess, "Summertime," came to my mind.


Summertime
And the livin' is easy,
Fish are jumpin'
And the cotton is high.
Oh yo' daddy's rich
An' yo' ma is good lookin'
So hush, little baby,
Don't you cry.


One of these mornin's,
You's gonna rise up singin'
Then you'll spread yo' wings
An' you'll take the sky.
But till that mornin',
There's ain't nothin' can harm you
With your Daddy an' Mummy
Standin' by.

What a nice cozy feeling! It just makes you want to spread out on a nice comfortable hammock under a shade tree and sip lemondade, doesn't it?
As I read through the above verses where summer is mentioned in the Bible, I noted that summer means more than just summer! Stretching out on a hammock on a warm summer day is exactly the wrong thing we should be thinking about.
First of all, we learn in Genesis that God is the One who controls all of the seasons, and that as long as the earth remains we will have summer and winter, seed time and harvest.
Then, in Jeremiah 8:20 we read the alarming words,
The harvest is past,
The summer is ended,
And we are not saved!
But, the Bible does not stop there; in both Matthew and Mark we are told that just as we understand that summer is near when the fig tree begins to grow its leaves, we should recognize the time of the Lord's return is near when we see certain things coming to pass.
What things?
5 And Jesus, answering them, began to say: "Take heed that no one deceives you. 6 For many will come in My name, saying, 'I am He,' and will deceive many. 7 But when you hear of wars and rumors of wars, do not be troubled; for such things must happen, but the end is not yet. 8 For nation will rise against nation, and kingdom against kingdom. And there will be earthquakes in various places, and there will be famines and troubles. These are the beginnings of sorrows.
Mark 13:5-8


Does this sound familiar?
The world such as we know it will not last forever; at a set time appointed by God, time will cease to be! God is not a creature of time as we are, and when God brings time to an end, neither will we be creatures of time.
So, perhaps when you are relaxing under the shade of that old oak tree drinking lemonade, it would be a good time for you to ponder your own future, so that you will not be able to say,
The harvest is past,
The summer is ended,
And we are not saved!


God Bless You, Linda


For more devotions check my Daily Bible Devotions where we are currently going through the Bible chronologically, and are now reading 2 Kings and 2 Chronicles. What an overview we are getting of good kings and bad kings! So much applies directly to our own lives today. I am finding that a chronological reading is very insightful. For example, the Psalms are interspersed with the narratives from 1 Chronicles and 2 Samuel, according to the approximate time they were written. I'm really excited about where God will take us as we go through the entire Bible this year. Hope you will join us!


Christian Success Institute
I have joined a wonderful online Bible education program entitled, Christian Success Institute. Christian Success Institute CSI encompasses all of life in their training of Godly men and women to live successful lives according to Biblical principles. Not only are there Bible studies, but also several career opportunities by dedicated Christians whose desire is to serve the Lord through their business ventures.
This is a site by Christians, for Christians, to teach them to successfully serve Christ in every area of their lives, including business.


CSI Update
I am now one of the CSI coaches! Just log on to the main CSI Web Site where you can now read my own free daily Bible devotions. Hope you will check it out!
Scriptures
I love sharing new things with you as they come along; I have discovered another great business site for Christians. After exploring several marketing companies, these people are really on the ball.
The first goal of this company, called Scriptures is to spread the Gospel to as many people as possible by putting Bible verses on all of the products they sell. The offer an impressive range of natural vitamins and supplements, as well as hair and body care products, and, of course, Bible study CD's.
The cost, therefore is almost non-existent! Just buy products that you would normally buy, from them instead of elsewhere.
If you want to take the time to find your own downline, through friends, neighbors, and cold calling, go right ahead. (I hate doing all of the above.)
But, if you would rather let them do the work for you, you have the opportunity of joining three different advertising co-ops based upon the amount of money you are willing to invest each month. (It's unbelievably cheap! I know because I have been foolish enough to join companies that cost over $100 a month.)
The advertising is done by a professional advertising company who puts ads in Christian magazines and Christian web sites. As people respond to the ads, the people at Scriptures build your downline. Your only responsiblity, then, is to call these people so you can answer their questions and encourage them in their own business.
Now that kind of calling I can do! After all, I love to talk, and these people are ready to listen.
I will keep you advised as to my own progress.
Enjoy your summer!
God Bless You,
Linda




Devotional Reflections from the Bible
Daily Bible Devotions
Christian Success Institute


Scriptures
New!

CommentsHave your say about what you just read! Leave me a comment in the box below.