Showers of Blessing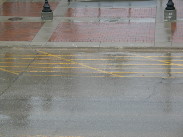 April Showers . . .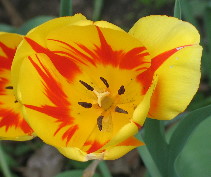 . . . Bring May Flowers
By awesome deeds you answer us with righteousness,O God of our salvation . . . You visit the earth and water it; you greatly enrich it; the river of God is full of water; you provide their grain, for so you have prepared it. You water its furrows abundantly, settling its ridges, softening it with showers, and blessing its growth.
Psalm 65:5 & 9-10, English Standard Version
How poets love to write of spring. Here is an excerpt from a poem by Oscar Wilde:


And all the woods are alive with the murmur and sound of spring,
And the rosebud breaks into pink on the climbing briar,
And the crocus bed is a quivering moon of fire
Girdled round with the belt of an amethyst ring.
- Oscar Wilde (Oscar Fingal O'Flahertie Wills Wilde)


Spring is such a fresh new time! After a hard winter such as we have had this year, it is a welcome sign to see rain rather than snow.
It is also a good time to reflect on the goodness of our God, who brightens our world with the coming flowers of May.
Just as the flowers and grass have died and are now coming to life again, we are reminded that except for the grace of God, we would be forever dead!
Only through Christ's death on the cross do we have hope for life--eternal life, forever with our Lord.
So, as the birds return and the flowers begin to bloom, take a walk and breathe in the wonders of new life. Look at all of the beauty of God's creation, and praise Him that He provides a way for us to also be reborn into His kingdom forever.


Once more the Heavenly Power
Makes all things new,
And domes the red-ploughed hills
With loving blue;
The blackbirds have their wills,
The throstles too.
- Lord Alfred Tennyson, Early Spring


For more devotions check my Daily Bible Devotions where we are currently going through the Bible chronologically, and have just begun the book of Judges. I'm really excited about where God will take us as we go through the entire Bible this year. Hope you will join us!

I am now starting a section on my website called Christian Book Reviews These are not just reviews written by me, but by others as well. So, please take some time and write a review for me!
God Bless You,
Linda


Devotional Reflections from the Bible

Daily Bible Devotions
New!

CommentsHave your say about what you just read! Leave me a comment in the box below.