Glory to God in the Highest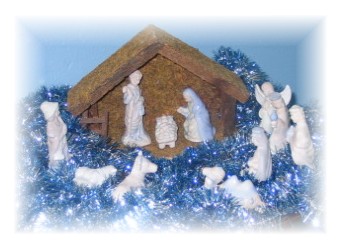 Glory to God in the Highest!
This Christmas Devotional, Glory to God in the Highest, takes a deeper look into the truths taught to us regarding the birth of Christ.
1 In those days a decree went out from Caesar Augustus that all the world should be registered. 2 This was the first registration when Quirinius was governor of Syria. 3 And all went to be registered, each to his own town. 4 And Joseph also went up from Galilee, from the town of Nazareth, to Judea, to the city of David, which is called Bethlehem, because he was of the house and lineage of David, 5 to be registered with Mary, his betrothed, who was with child. 6 And while they were there, the time came for her to give birth. 7 And she gave birth to her firstborn son and wrapped him in swaddling cloths and laid him in a manger, because there was no place for them in the inn.
8 And in the same region there were shepherds out in the field, keeping watch over their flock by night. 9 And an angel of the Lord appeared to them, and the glory of the Lord shone around them, and they were filled with fear. 10 And the angel said to them, "Fear not, for behold, I bring you good news of a great joy that will be for all the people. 11 For unto you is born this day in the city of David a Savior, who is Christ the Lord. 12 And this will be a sign for you: you will find a baby wrapped in swaddling cloths and lying in a manger." 13 And suddenly there was with the angel a multitude of the heavenly host praising God and saying,
14 "Glory to God in the highest, and on earth peace among those with whom he is pleased!"
15 When the angels went away from them into heaven, the shepherds said to one another, "Let us go over to Bethlehem and see this thing that has happened, which the Lord has made known to us." 16 And they went with haste and found Mary and Joseph, and the baby lying in a manger. 17 And when they saw it, they made known the saying that had been told them concerning this child. 18 And all who heard it wondered at what the shepherds told them. 19 But Mary treasured up all these things, pondering them in her heart. 20 And the shepherds returned, glorifying and praising God for all they had heard and seen, as it had been told them.
Luke 2:1-20
Luke 2:1-20 is perhaps one of the most well known Scripture passages, along with the 23rd Psalm and The Lord's Prayer. Even so, it is hard to write a Christmas Devotional and exclude this Bible passage.
Unfortunately its very familiarity can easily cause us to miss the truths given to us in this Bible passage.
City of Christ's Birth: Bethlehem
In the book of Micah, written about 750-700 B.C.) the coming of the Ruler of Israel was foretold. But you, O Bethlehem Ephrathah, who are too little to be among the clans of Judah, from you shall come forth for me one who is to be ruler in Israel, whose origin is from of old, from ancient days. Micah 5:2
Did Mary and Joseph, knowing this, plan to go to Bethlehem? No, Ceasar Agustus decreed that everyone must go to the city of his tribe to be registered. Joseph and Mary, being of the tribe of Judah had to go to Bethlehem. This caused confusion later in the life of Christ, because Mary and Joseph lived in Nazareth, so it was assumed that Jesus was born in Nazareth, not Bethlehem.
Angels Announce the Birth of Christ
Sometimes we miss the obvious; we are so accustomed to these words that we tend to forget what the angels really said. Even at His birth, the angels proclaimed, For unto you is born this day in the city of David a Savior, who is Christ the Lord. Why, then, didn't the Jews understand right then that their Messiah had come? In our day of mass media, this is hard to understand. There was no media coverage of this important event; as a matter of fact, only a few shepherds came to bow before the Baby in the manger, and glorify God for what they had seen.
Mary's Understanding Deepened
Mary, handpicked by God to be the mother of Christ, was an amazing woman. We must remember that we have the whole life of Christ laid out before us in the four Gospels, but Mary did not have this knowledge. She learned each thing step by step. She knew that she was pregnant by the Holy Ghost, and now she learned that this Baby, the Savior, was announced by angels. We are told she treasured these things in her heart.
What are We to Learn from the Birth of Christ?
First, God is in complete control of our lives, and whatever has been foretold in the Old Testament will come to pass. This is true of non-Christians as well as Christians. God caused Ceasar Agustus to decree that every person should be registered, which then brought Joseph and Mary to Bethlehem.
Second, this Baby IS the Savior; only through Him is salvation granted; only through Him can we make peace with God. As an aside, there really are angels who are messengers of God and who work on our behalf.
Third, the story of the Baby in the Manger is not just a nice, sweet little story, but rather the most powerful story ever written that has changed the life of every person who has ever lived and who ever will live on this earth. Like Mary, as we treasure these things in our heart, our understanding should be deepened.
As you go through this Christmas season, remember the true meaning of Christmas and share this with your family and everyone around you. Also, pray for greater understanding as to how this birth directly affects you.
Glory to God in the Highest!
May God's Blessing be Upon You this Christmas,
Linda



New!

CommentsHave your say about what you just read! Leave me a comment in the box below.