All You Need is Love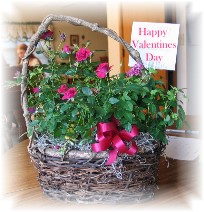 In the 1967 the Beatles charmed us with the words:
All you need is love
All you need is love
All you need is love, love
Love is all you need.
In 1961, Bob Merrill wrote:
Love makes the world go 'round.
Love makes the world go 'round.
Somebody soon will love you,
If no one loves you now.
High in some silent sky
Love sings a silver song
Making the earth whirl softly
Love makes the world go 'round.
So, what is it that makes Valentines Day one of the most special days of the year? (Special to me, anyway. My husband doesn't always think so.) It's love!
Where did love come from? Now, that's the correct question to ask! We cannot really understand the depth of love until we understand its Creator.
In Deuteronomy 7:8, God tells the Israelites, But it was because the Lord loved you and kept the oath He swore to your forefathers that He brought you out with a mighty hand and redeemed you from the land of slavery.
Ephesians 2:4-5 continues, But because of His great love for us, God, who is rich in mercy, made us alive with Christ even when we were dead in transgressions—it is by grace you have been saved.
Where did love originate? Love originated with God. The Bible says God is love.
It's a wonderful thing to be in love, to have that special person to share your life with, to have someone there for you when all others seem to turn away.

This Valentines Day when you think of those you love and those who love you (family, friends, spouses, boyfriends, girlfriends, etc.), think about the real meaning of love. Think about God who sent His only Son to come to this earth to die for our sins. Think about the sacrifice God made for such miserable creatures as us, and pray that God would grant you that kind of love for those around you.
For just one day, pray that God will help you to live only for others and not yourself. It's not as easy as it sounds; pray to God, the Author of Love, for help.
Happy Valentine's Day,
Linda



New!

CommentsHave your say about what you just read! Leave me a comment in the box below.